<! -- Aisle 7 -->
Daily Diabetes Care for Your Loved One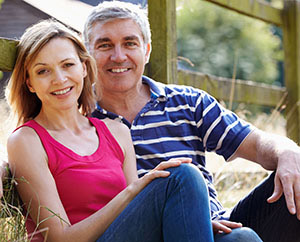 Modeling healthy behaviors can help your loved one adopt the habits that will help manage diabetes and prevent complications
A diabetes diagnosis affects the whole family. Embracing your role as an advocate and supporter now and into the future can help your loved one live healthfully and happily, despite a diabetes diagnosis.
Listen and learn
When a person is first diagnosed with diabetes, the technical aspects can be overwhelming.
As a parent of a child with diabetes, you'll certainly take on most of the initial responsibility of learning how to manage the disease. For partners, parents, or other close adults, keep in mind that the person with diabetes may easily become overwhelmed and tune out during those first few crucial healthcare visits. This is where a supportive family member can really make a difference. You can be the "eyes and ears" during the learning process, taking notes, reading up, and getting informed so when it's time to make important decisions, you can provide valuable insight.
Be patient
Give yourselves time to adjust to a diabetes diagnosis. Some people go through a period of denial, which requires patience and a little extra support to get through the initial learning curve. Lending support—without nagging—will help your loved one cope with the big changes to diet and activity that go along with diabetes.
Modeling healthy behaviors can help your loved one adopt the habits that will help manage diabetes and prevent complications. After all, eating a donut while admonishing your loved one to "eat smart" won't get you far. Instead, help prepare and eat the same nutritious foods to send the message that you're in this together. Planning exercise together is another way to make sure they get the activity that helps improve their (and your!) overall health.
Get technical
If your loved one needs insulin to manage their diabetes, you'll need to decide on an administration method. A new diagnosis generally requires an initial period of manually-injected insulin, so you'll work with the doctor and a certified diabetes educator (CDE) to learn how much, what types, and when insulin is given, and how to balance meals, snacks, and different types of food with particular doses and types of insulin. During this learning period, your loved one will need to use either an insulin pen, or vials and syringes to deliver insulin.
Insulin administration options: pros and cons
Insulin pens
Disposable pens come prefilled with insulin, typically containing 300 units per pen. They can be easy to use because you don't have to load insulin cartridges, and once they're empty or have been stored at room temperature for more than 28 days, you simply throw them away.
Reusable pens use replaceable cartridges filled with insulin, usually containing 300 units of insulin each. When the cartridge is empty, or if you've stored the pen and cartridge at room temperature for more than 28 days, the cartridge is discarded and a new one inserted.
Disposable and reusable insulin pens can be:
portable,
discreet,
convenient for injections away from home,
time-saving, and
potentially safer to use than other dosing methods, because delivering accurate doses simply requires turning a dial.
On the downside, disposable and reusable insulin pens might:
be inconvenient, because insulin pen-needles must be attached prior to each injection;
cost more—check with your insurance provider to see what's covered;
waste some insulin during priming or when a small amount is left over in the pen;
limit the insulin type used, as not all types are available in pen form; or
require two or more injections per delivery if the prescribed mixture isn't available in pen form.
Vial and syringe
The most "low tech" insulin delivery option is a vial and syringe. Many people choose it because it is less expensive than pens, and it allows for very precise mixing of different forms of insulin into one injection.
Mix and match management techniques
Many people find they use different insulin delivery methods depending on the situation. For example, perhaps keeping a disposable pen on hand during travel, holidays, or other busy times makes the most sense. For day-to-day care, a reusable pen may offer convenient dosing when you and your loved one are away from home. While at home, the economical syringe may be a reasonable choice.

While a diabetes diagnosis takes some time to get used to, many of the adjustments you'll make will actually benefit the whole family. And, with time and practice, you can help your loved one manage their diabetes and avoid complications.

(Diabetes Care 2017;40)

Copyright © 2021 TraceGains, Inc. All rights reserved.

<! -- Aisle 7 -->