<! -- Aisle 7 -->
Mediterranean Diet May Lower Heart Disease Risk Markers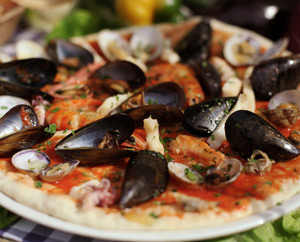 A Mediterranean diet rich in virgin olive oil may be a useful tool for controlling heart disease
Sticking to the Mediterranean diet could lower markers for heart disease risk in older people, according to a study in Atherosclerosis. These findings are in line with previous studies that have shown the Mediterranean diet may help lower the risk of heart disease, cancer, Parkinson's disease, Alzheimer's disease, and overall mortality.
Know your cholesterol components
Most of us are familiar with cholesterol, which refers to fats in the blood, and lipoproteins such as LDL and HDL (which carry cholesterol in the bloodstream). It is well known that high levels of total cholesterol and low-density lipoprotein (LDL) cholesterol are associated with increased risk of developing heart disease, while high levels of high-density lipoprotein (HDL) are considered to be protective.
Lipoproteins break down into even smaller components, however. Apolipoprotein (apo) B is a component of LDL cholesterol, and apo A-1 makes up a portion of HDL cholesterol. High levels of apo B are associated with an increased heart disease risk, while higher apo A-1 levels seem to be protective. Recent evidence suggests that these lipoproteins and their ratios in the bloodstream may be more useful tools for predicting heart disease and stroke risk than merely looking at LDL and HDL cholesterol levels.
Diet right
The study compared the effect of three different diets on lipoprotein levels and other measures of heart disease risk in 551 people aged 55 to 80 who were at high risk for developing heart disease.
A control group that followed the American Heart Association low-fat dietary guidelines
A group that followed the Mediterranean diet plus additional virgin olive oil
A group that followed the Mediterranean diet with the addition of mixed nuts
Both Mediterranean diets had positive effects on LDL and HDL cholesterol levels. Compared with the low-fat diet group, the Mediterranean diet plus olive oil group had significantly lower apo B levels, higher apo A-1 levels, and lower apoB/apoA-1 ratios, suggesting a decreased heart disease risk in this group. About 8% of men in this group went from being in the "high risk for heart attack" category to "low risk." Similarly, about 17% of women in the Mediterranean diet plus olive oil group went from "high" to "low" heart attack risk categories.
"Data from this study provide further evidence to recommend a Mediterranean diet rich in virgin olive oil as a useful tool for controlling heart disease, particularly in individuals at high risk," said lead study author, Rosa Sola of the Human Nutrition Department at the School of Medicine, University Rovira i Virgili, Spain.
Mediterranean diet basics
The Mediterranean diet includes
plenty of fresh vegetables and fruits, olive oil, nuts and seeds, whole grains, beans and other legumes,
moderate amounts of seafood,
some alcohol,
lesser amounts of dairy, eggs, and poultry, and
very little red meat and sugar.
(Atherosclerosis 2011;218:174–80)

Kimberly Beauchamp, ND, received her doctoral degree from Bastyr University, the nation's premier academic institution for science-based natural medicine. She co-founded South County Naturopaths in Wakefield, RI, where she practiced whole family care with an emphasis on nutritional counseling, herbal medicine, detoxification, and food allergy identification and treatment. Her blog, Eat Happy, helps take the drama out of healthy eating with real food recipes and nutrition news that you can use. Dr. Beauchamp is a regular contributor to TraceGains Newswire.

Copyright © 2021 TraceGains, Inc. All rights reserved.

<! -- Aisle 7 -->