<! -- Aisle 7 -->
Gluten-Free Holiday Cheer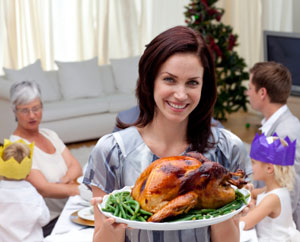 Cooking foods from scratch and avoiding premade mixes helps avoid accidental gluten contamination
The holidays can be stressful enough without the added worry of being
gluten-free
at seasonal gatherings. But a bit of planning should help you skip that stress and enjoy what the holidays are all about—celebrating time with family and friends.
Top tips for a smashing gluten-free holiday celebration
Do-It-Yourself: Preparing for the holidays in your own kitchen might be the easiest and most fool-proof way to ensure that the foods you serve are truly gluten-free. Cooking foods from scratch, avoiding premade mixes (seasoning blends, soup mixes, salad dressing mixes, etc.), helps avoid accidental gluten contamination.
Check ahead: If you're celebrating the holiday at someone else's home, tell your host that you are gluten intolerant. Ask them to save the labels from ingredients they've used so you can verify that the food is safe for you to eat. It may seem like a lot to ask, but most people are happy to accommodate.
Bring your own: Help keep your hosts' stress down (and yours!) by offering to bring a couple gluten-free dishes to share. Side dishes and appetizers are easy to pack and carry, like orange cranberry sauce, green beans with slivered almonds, deviled eggs, or maple glazed spicy nuts. If there's a special holiday dish that you just can't live without, bring it yourself.
Focus on the basics: Eggs, meat, fish, dairy products, corn, beans and other legumes, rice, vegetables, and fruits are all naturally gluten-free. Plan your holiday feast around these timeless staples and you won't even miss the gluten. Think: baked brie with rice crackers, pumpkin bisque, roasted turkey, garlic mashed potatoes, honey glazed carrots, cornbread stuffing, spinach salad with pecans and strawberries, and blueberry peach cobbler with gluten-free oat crumb topping.
Plan ahead: Start putting your menu together about a week before the celebration and test recipes that you haven't tried before. Try preparing desserts ahead of time and freeze them until the day of the celebration. Gluten-free cheesecake and holiday cookies freeze exceptionally well.
Don't cross-contaminate
This tip is so important, it gets its own section! In the kitchen and at the table, it's easy to unwittingly slip a bit of gluten into a dish.
Make sure that you clean your work surfaces and utensils thoroughly prior to food preparation. When possible, use different utensils and cutting boards for gluten-free ingredients.
Store gluten-free ingredients separately from others in the kitchen.
Use a separate toaster for gluten-free bread.
Don't use gluten-containing flour in a kitchen where you'll be preparing gluten-free foods; it's difficult to keep flour particles from floating in the air and covering nearby surfaces.
Use clean utensils to serve things like butter and jam and have the person with the gluten intolerance serve him or herself first. Or, better yet, have separate condiments for your gluten-sensitive guests.
Place gluten-free foods on a separate table in the serving area.
Make sure you don't contaminate dips and spreads by serving them with gluten-containing crackers.
Better safe than sorry
If an ingredient list doesn't say "gluten-free," don't assume that it is, even if there are no obvious gluten-containing ingredients on the label. Gluten can hide out in any food that's been processed in a plant that also handles gluten-containing foods. It can also lurk in foods containing ambiguous ingredients like natural flavorings, emulsifiers, stabilizers, malt, and starch.
Beware of hidden gluten in these holiday foods and ingredients:
Turkeys and hams that have been injected with gluten-containing solutions
spice and herb blends
vanilla flavoring
condiments
beverage mixes including instant coffee and hot chocolate mix
nondairy creamer
salad dressings
canned baked beans
gravy
sausage
broth and bouillon
Quick gluten-free fixes for the holidays
Cathy Picard, a naturopathic doctor from RI, says some gluten-free substitutions can be "ridiculously simple." She suggests using rice crackers or gluten-free pretzels in any recipe calling for bread crumbs, and adding a couple tablespoons of gluten-free baking mix instead of wheat flour to thicken gravies. When it comes to holiday get-togethers, "I always seem to be the one who gets the job of making a "festive salad" with cranberries, candied walnuts, blue cheese and pear," Dr. Picard says.

Many regulars at the holiday table can be easily adjusted for the gluten-free.

Gravy: Use cornstarch or arrowroot powder instead of flour to thicken the drippings.

Stuffing: Cornbread might have been the original Thanksgiving stuffing. It holds its texture better than many wheat-based breads, too.

Dinner rolls: Use a gluten-free baking mix to whip up a batch of these comforting treats. Pie crust: Use ground almonds or shredded coconut as a base for a homemade crust, or pick up a frozen gluten-free crust to fill with your favorite fruit or winter squash.

Trang Duong, a physician and gluten-, dairy-, and egg-free home cook based in Surrey, British Columbia, says that gluten-free pumpkin cupcakes made with all purpose gluten-free flour are a holiday staple in her house. She adds a teaspoon of xanthan gum to the recipe to replace the binding quality that gluten normally gives to baked goods. "I also make a gluten-free pumpkin cheesecake using almond meal for the crust, which provides a more nutritious gluten-free option," says Duong.

Copyright © 2021 TraceGains, Inc. All rights reserved.

<! -- Aisle 7 -->