<! -- Aisle 7 -->
High-Antioxidant Diet May Mean Lower Stroke Risk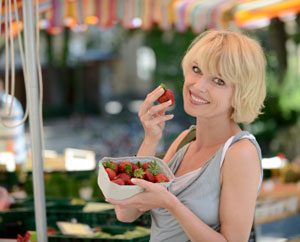 Whole foods—especially brightly colored fruits and vegetables—contain a host of antioxidants, minerals, vitamins, fiber, and other nutrients
In addition to the many known disease-fighting benefits, antioxidant-rich foods might lower risk of having a stroke, according to a study in the journal, Stroke.
While eating more fruits and vegetables seems to protect against stroke, scientists don't fully understand what makes them such great stroke busters. Instead of trying to single out individual nutrients to measure their benefits, Swedish researchers conducted a study with a group of women to examine the holistic effects of a healthy diet on stroke risk.
The whole picture
The study included 31,035 healthy women and 5,680 women with a history of cardiovascular disease as part of the Swedish Mammography Cohort. The women answered detailed questionnaires about their diets. From this information, the researchers calculated the total antioxidant capacity of the women's diets using a measurement called the oxygen radical absorbance capacity (ORAC). ORAC values are used to estimate the oxygen-reducing ability of individual foods; the higher the ORAC number of a food, the greater its antioxidant capacity.
"We aimed to examine antioxidant intake by taking into account all antioxidants present in the diet, including thousands of compounds, in doses obtained from a usual diet," the study authors commented.
The women were followed for about 10 to 12 years. Cases of strokes were recorded during this time and researchers found the following:
Among women who already had heart disease, those with the highest total antioxidant capacity diets reduced their risk of having a hemorrhagic stroke (a less common type of stroke characterized by bleeding into the brain) by 45%.
Fruits and vegetables contributed about 50% of the total antioxidant capacity of the women's diets. The rest came from whole grains, tea, and chocolate.
Antioxidant up
Antioxidants help lower stroke risk but these nutrition superstars may also prevent cancer, slow the aging process, and reduce the risk of developing heart disease, diabetes, and neurological diseases such as Alzheimer's disease and Parkinson's disease.
Whole foods—especially brightly colored fruits and vegetables—contain a host of antioxidants, minerals, vitamins, fiber, and other nutrients that work together to enhance the absorption of each other. Relying on whole foods for your antioxidant needs (as opposed to supplements) helps assure that you're getting all the nutrients that your body requires.
Among vegetables, kale, spinach, Brussels sprouts, broccoli, and beets top the list for their antioxidant capacity. Prunes, raisins, blackberries, raspberries, strawberries, blueberries, and plums are the richest fruit sources of antioxidants.
Besides the usual suspects, these foods make top grade on the ORAC scale. Some of them might surprise you.
Nuts. Pecans, walnuts, and hazelnuts are all packed with health-promoting antioxidants. Toss a few in your salad or smoothie and keep some on hand to snack on when hunger strikes. Nuts are also loaded with heart healthy omega-3 fatty acids.
Spices. Dried spices top the list for their antioxidant capacity. So shake on the turmeric, cinnamon, cloves, oregano, thyme, chili powder, nutmeg, basil, ground ginger, pepper, and rosemary for an antioxidant boost that tastes great, too. (Just maybe not all together!)
Beans. Black, red, and pink beans contain abundant antioxidants. Beans are easy to incorporate into the diet. Open a can and add to soups, stews, or burritos for a fiber and protein-rich dose of antioxidants.
(

Stroke

2011;doi:10.1161/STROKEAHA.111.635557)

Kimberly Beauchamp, ND, received her doctoral degree from Bastyr University, the nation's premier academic institution for science-based natural medicine. She co-founded South County Naturopaths in Wakefield, RI, where she practiced whole family care with an emphasis on nutritional counseling, herbal medicine, detoxification, and food allergy identification and treatment. Her blog, Eat Happy, helps take the drama out of healthy eating with real food recipes and nutrition news that you can use. Dr. Beauchamp is a regular contributor to TraceGains Newswire.

Copyright © 2021 TraceGains, Inc. All rights reserved.

<! -- Aisle 7 -->